President's Message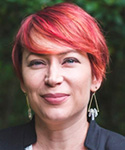 On behalf of the Opioid Treatment Providers of Georgia, we'd like to welcome you to our site.  As we continue to grow as an organization, our goal is to welcome and provide education to new providers, highlight accomplishments, and focus on the many benefits that OTPG membership provides to our members.
OTPG is a consortium of Opioid Treatment Providers in our state who share the common interest in providing quality care to the persons we serve.  Over the past few decades, we have made great strides with the support of our Executive Board, general membership, the Georgia Department of Behavioral Health and Developmental Disabilities, Imagine Hope, Inc. and many of our sponsors.  We have been fortunate enough to host two national conferences on behalf of the American Association for the Treatment of Opioid Dependence and host our own state-level conference each year.
Our ultimate goal as a coalition is to have 100% participation of all Opioid Treatment Programs in the state of Georgia.  We have found that collectively, the programs throughout the state have a much greater influence in the development of regulations and standards than individual programs alone.  If you are not currently a member, we would like to invite you to join our team.  If you are a member, we thank you for your continuous support throughout the years.  For those programs who are current members, we look forward to your continued support as we continue to move forward with our endeavors.