OTPG Conference: Thank You 2015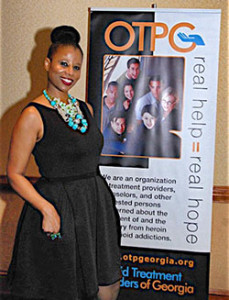 On behalf of the Opioid Treatment Providers of Georgia, we thank all of those that attended the conference as well as our dedicated sponsors, presenters and volunteers.
The Silent Auction was an added bonus this year that provided another accent to the conference that was both enjoyable and beneficial to our goal of financial growth. OTPG strives to direct our interests toward areas in the field that will assist in the enhancement of narcotic treatment, and such supportive functions and events provide the pathway for our success.
OTPG looks forward to providing additional educational training throughout the forthcoming year and we anticipate the involvement of our peers and colleagues as well as our community and state affiliates. So be on the "OTPG Training Buzz" look out because there is certainly more to come.
Once again, we thank all of you for the support and commitment to OTPG and we anticipate a rewarding 2016.
By Joelyn Alfred, Lakeland Centres
OTPG Conference Chair