OTPG 2022 Conference Keynote Speaker
Cassaundra "Yo' Sis" Bingaman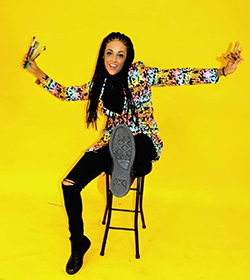 Cassaundra "Yo' Sis" Bingaman is a multi- award winning, national spoken word artist, creative, and humanitarian. She has been recognized as an esteemed leader in her community and is a self-proclaimed student of life who is learning, living, and breathing the power of words and expression as an effective means of healing for herself and any living thing that nears her.
She has over a decade of professional experience working directly with youth in foster care who live with extreme behavioral and/or mental health challenges. She uses her lived experience to create, teach, and practice innovative approaches to behavioral management, crisis prevention, and personal empowerment.
Yo' Sis is currently the program coordinator for Youth on the R2ise, an organization in Atlanta, Ga, that provides a safe place for people in recovery from addictive diseases and/or mental health challenges to maintain their wellness through the arts.
She is the understudy of founder and executive director, Alexia Jones, and credits the Beracha Method for expanding her understanding of recovery and diversifying her practices to include trauma informed care and strength-based approaches for ANYONE seeking to feel and become a better version of themselves.
Yo' Sis is a world traveler who was born in Maryland. She resides in Georgia. She is not married. She has no biological children. She is a dynamic entertainer, advocate, and activist who loves sunshine and espresso. Lastly, she cares less about you remembering who she is and more about you remembering how she made you feel!
You can follow her on Instagram at @yo_sis__ , become her Facebook friend at Cassaundra Bingaman, and get in contact with her directly at yo.sis@yahoo.com.